Patterns as Places
"The exhibition Patterns as Places includes a dozen collage pieces on tin and aluminum from Tim Clair's "shield" and "quilt" series and Leslie Lowinger's recent abstractions, etchings and drawings of city scenes and people. Both artists rely on rhythmic geometric and repeated stylish patterns in the compositions of their works...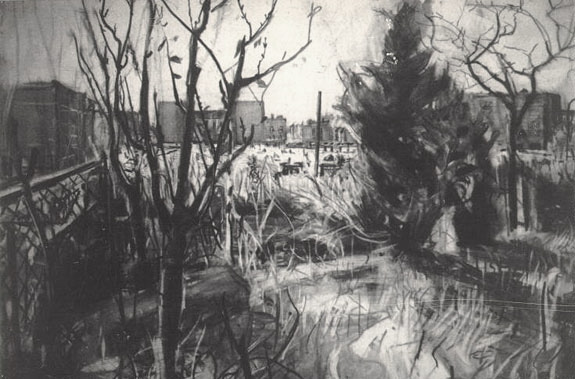 Lowinger's etchings create an antique atmosphere of space and isolation in cityscapes.
San Francisco Center, an etching based on drawings she made at she made at the San Francisco Shopping Center of people moving up and down on escalators there, evokes the distinct rhythmic movements of a spiral with the figures floating in and out of the picture plane.
A work I especially enjoy is Long Island, a charcoal drawing of a winter street scene that is full of emotion and familiarity, with dirty snow piled high along the sidewalk. The city skyline in the background is equally haunting with wintry dark and dirty light. The drawing vibrates with gestural strokes and the graphic sweep of lines and smears."